California Camping At Low Altitude
Heading into the cooler season, you need to decide where the best places are for California camping. The mountains are starting to get snow and the temperatures and below freezing at high elevations.
When it comes to Southern California, I generally like to head into the desert for Fall and Winter camping. The climate is perfect for exploring trails and going on sunset hikes.
Here are my favorite places to camp in Southern California during Fall and Winter:
This is a busy time of year in Joshua Tree, so if you are planning on going, make sure to get a reservation or have some backup plans just in case. Campgrounds usually fill from October through May. This is an iconic camping area to see epic views of the stars and experience the desert terrain. Enjoy the vastness of the space above and below you.
Temperatures can get cold in the high-desert so be sure to bring warm clothing and a good sleeping bag.
Can't find a campsite inside the park? Learn more about Camping Outside of the Park.
Jumbo Rocks' central location offers a great base camp to explore other areas of Joshua Tree National Park. Skull Rock trail originates in this campground, and other nearby hikes include Split Rock, Ryan Mountain, and Pine City.  Also, be sure to bring your telescope if you have one because the star gazing is insane! It is one of the most popular campsites in Joshua Tree for a reason.
There are tons of spots to check out and camp in Death Valley. With the cooler weather, it is the best time of year to go and take your pick from the hundreds of sites available. Listen and look for wildlife, gaze at the amazing views of the stars. No matter which campsite you choose, the escape from the mundane is guaranteed, with expansive desert views.
Nothing makes a better introduction to Death Valley than a visit to the 100-foot/30-meter-high Mesquite Flat Sand Dunes. These aren't Death Valley's tallest sand dunes (those are the Eureka Dunes, which require 4WD to reach)—but they are the most accessible. Create the adventure you desire for climbing the dunes. Without any marked trails due to the continually shifting desert sands the only limitation on where you go depends on the amount of creativity you possess, or how daring you feel. Go before sunrise or sunset to see a beautiful display of colors transform the vast dunes.
If you are by the sand dunes, look to cool off at nearby Darwin Falls. You hike up a river bed which leds to a refreshing oasis and waterfall.
These natural hot springs are located in a relaxed desert environment. There are gender-segregated, no-clothing-mandatory, and indoor hot pools for soaking that are open 24 hours. Tecopa Hot Springs Resort is a great stop on your way to Death Valley and has restaurants, live music, entertainment, hiking, off-road adventures, and many nearby attractions. Forget your urban life cares with the help of these geo-thermal waters as they melt all your stress away.
Staying in the Mojave Desert is some of the most remote California camping you can find.
Get out there and lose yourself in nature. These 13 yellow post campsites in Big Bear are on a first-come-first-serve basis for up to 8 people per campsite. The fall season is the perfect time of year to go into the mountains and gain solitude before the winter months make it cold and snow ridden. These campsites allow you to disappear into the majestic mountain scenery and forget about life for a while.
This is for a more adventurous hiker because the trail descends steeply for 2 1/2 miles to the springs. There is an alternative route if you hike the Pacific Crest Trail east from Arrowhead Lake Road. It is roughly a six-mile hike. If you looking for a wilderness hike challenge with an amazing payoff by a soak in a hot spring as your reward at the end, this is the place for you!
Deep Creek Hot Springs is one of my favorite hot springs in the entire world
Located on the San Diego Coast, San Elijo State Beach offers camping, swimming, surfing, showers and picnicking. The narrow, bluff-backed stretch of sand has a nearby reef popular with snorkelers and divers. A camp store and snack bar are located near the campground entrance and operates from March through December just in case you forgot some supplies or need some firewood.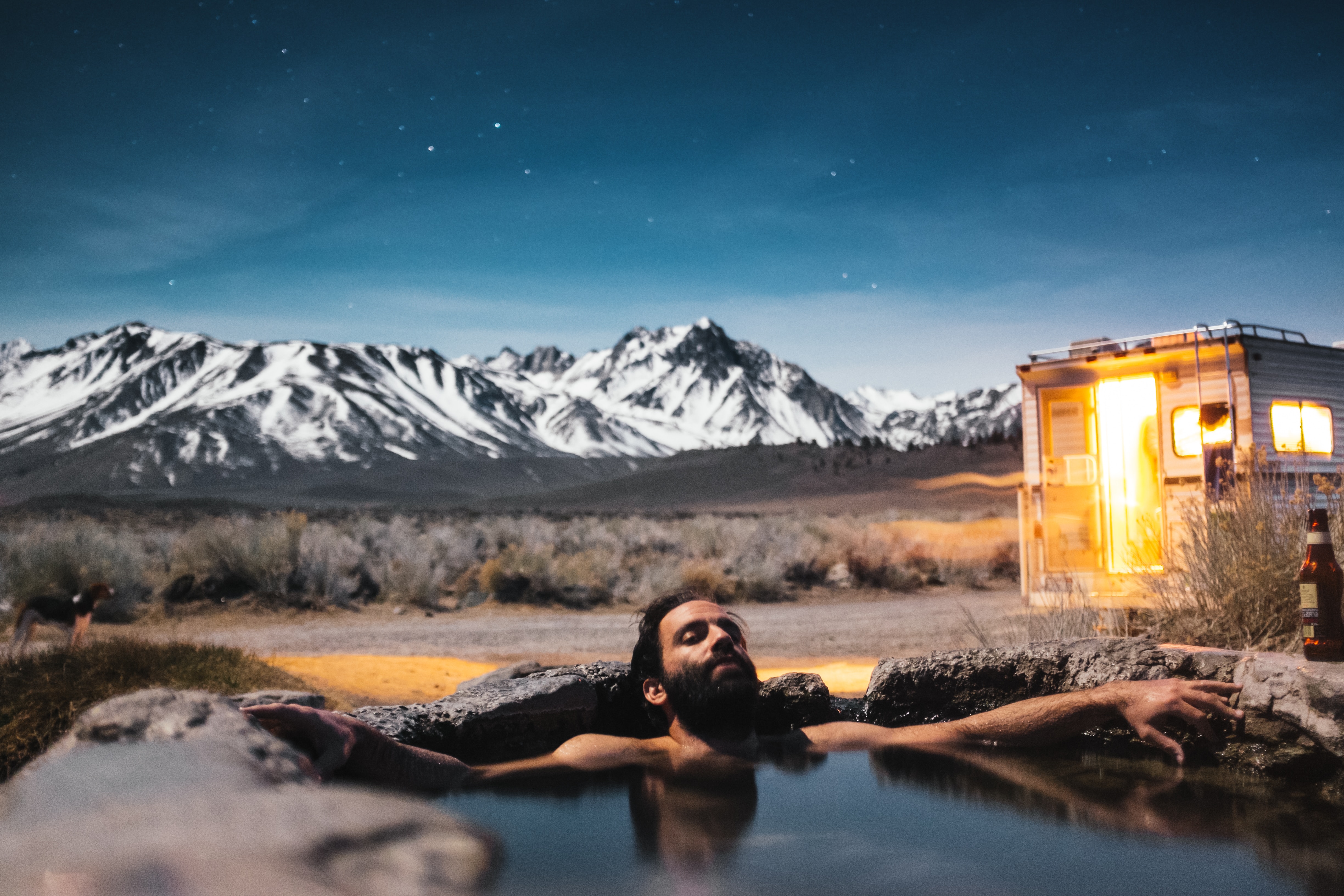 7. Owens River Valley – Wild Willy Hot Springs
Do you feel that you need to get some space and relax? The Wild Willy Hot Springs in the Owens River Valley off of HWY 395 outside Mammoth, CA is an experience you must have. The pools reach temps over 100 degrees and will relax every bit of your body. You can camp in various spots of the Owens River Valley depending on what you are looking for. Convict Lake is another beautiful place to consider for California camping and has full service facilities for all types of campers.
Weary from camping?
Enjoy a comfortable bed at ITH Hostels after adventuring in the wild outdoors! If you want to camp in comfort, we offer camping at ITH Big Bear Hostel.
We are close to San Diego International Airport if you need to fly in or out of San Diego.