A San Francisco Hostel For Backpackers
ITH Pacific Tradewinds Hostels is located in the heart of San Francisco inside Chinatown. Our San Francisco Hostel is an affordable place to stay and has a friendly atmosphere designed to host world travelers. At the Pacific Tradewinds Hostel, you can choose between private rooms or dorm rooms and have a comfortable communal atmosphere. At the ITH, our passion is to host you with a home-like vibe and connect you with the best things to do in San Francisco. The hostel is located 15 minutes from the San Francisco International Airport.
The Pacific Tradewinds Hostel offers a communal kitchen, lounge, and workspaces providing you with a great place to stay in San Francisco. There is free WIFI available. 
The International Travelers House Pacific Tradewinds is unlike any other San Francisco hostel and has spaces for all types of travelers regardless of their itinerary to create a social, friendly, and fun atmosphere.
All the guests gather regularly in the evenings to trade stories and laughs. Social hostel by night, our friendly accommodation is designed to be a place where you can relax and hang out or work while on the road.  You will meet super-friendly travelers and soak in the ultra-homey vibe.
Welcome Home.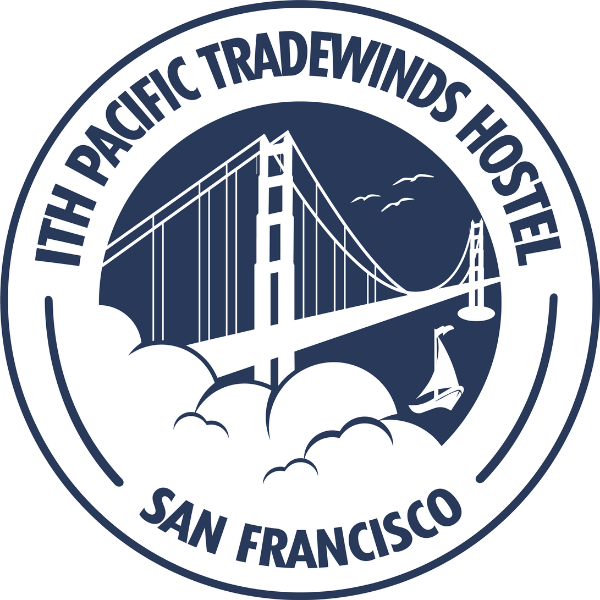 Rooms
___________________
Where You'll Be
___________________
Center of Downtown in Chinatown
San Francisco, California, United States
Chinatown is an excellent neighborhood to stay in offering great food, craft bars, and great markets. You can easily access the BART to go anywhere in the city.
San Francisco, US
6:30 am, October 1, 2023
54°F
Closest Airport

San Francisco International Airport is located 38 minutes by car. We recommend taking the BART Metro inside the Airport to the Montgomery St. Station. The trip will take around 45 minutes to the Hostel and cost $12. The Hostel is located 8 minutes walking from the Montgomery St. Station.
PROMOTIONS FOR YOU
___________________
Hostel EVENTS
To join, meet us at reception & our team will be happy to get you the details!
___________________
GUEST REVIEWS
___________________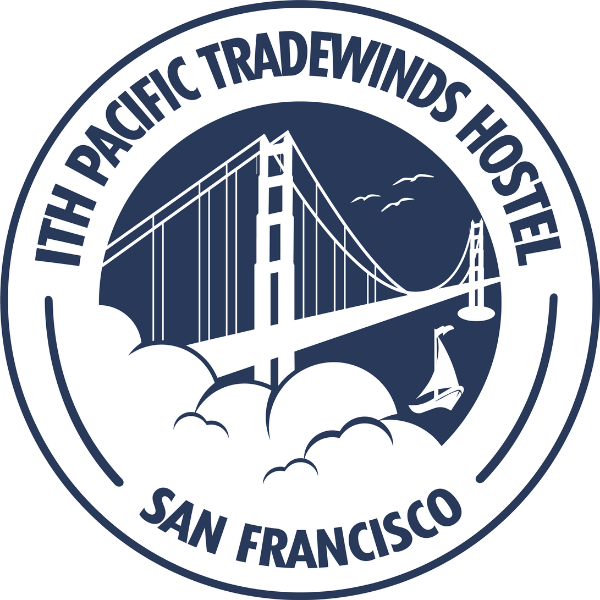 Based on 288 reviews
San Francisco Adventure Tours
___________________
Discover the City
San Francisco is one of the most unique cities in the world. The hilly streets and historic landmarks will leave you with endless photo opportunities. We have gathered our top list of preferred partners for you to find the best experiences!
Are you feeling the #ithvibes?
Whats Happening in San Francisco
Pacific Tradewinds Hostel FAQS
___________________
Where is San Francisco?
San Francisco is located in central California along the coast. Oakland is 30 minutes away.
What is San Francisco like?
San Francisco is a diverse city offering very authentic culture and flare. Historic houses line the hilly streets and picturesque moments are around every corner. The Golden Gate Bridge is the main landmark and connects the city to the Pacific Coast Highway heading North.
Do you offer long-term stays at the Hostel?
You are welcome to stay at the Hostel for up to 14 days per month.
Can I bring my dog?
Only registered service animals are allowed at the hostel. Therapy pets are not allowed at the hostel.
Is the wifi good?
Yes, we have fast wifi. You can work from your bed or hang out in the lounge.
How far from the water are you?
We are located 10 minutes from San Francisco Bay.
Do you offer CoWorking?
Yes. The Hostel has Day Passes available for $20 per day. You are welcome to use the facilities from 11 AM to 11 PM.
Do you have food available for sale?
Yes. We have a small Bodega on-site offering food, drinks, and supplies.
Explore The City
___________________
San Francisco Attractions
Knowing where to go and what to do is the secret to a great vacation. As locals, we have highlighted the best sights to see and local vendors to try.