Surf Trip To Baja From San Diego

With Baja being a mere stone's throw away from sunny San Diego, it's the perfect spot south of the border for a weekend getaway.  That's why we've made a Baja guide with useful tips and tricks to help you enjoy your stay, no matter how brief.  So take a surf trip to Baja! It's okay to cheat on Windansea and Black's Beach with their Mexican peers for a weekend.  After all, what happens in Mexico stays in Mexico; we promise we won't tell anyone.
Routes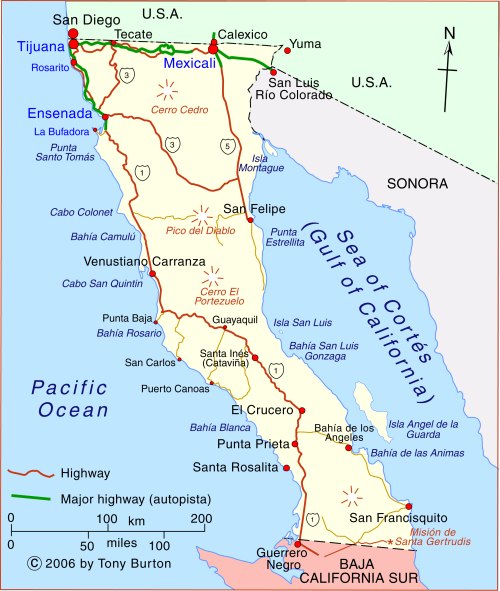 A mere hour's drive from San Diego, the route to Baja is well travelled. We recommend driving southbound on the toll road, I-880, directly to the border or straight to La Fonda.  There are plenty of good eats to stop at along the way as well.
Once you reach the Mexican border, be prepared to sit in long lines and suffer lengthy wait times.  Crossing the border is no timely pursuit, so make sure you allow yourself plenty of time.  Friday afternoons and Sundays tend to be the worst travel days.  So if you can cross the border on weekdays or early mornings, you'll be grateful that you did.
Best Surf Sites
Once you arrive, head to one of Baja's best surf spots for some great swells off the beaten path.  You'll find that the beaches here are a breath of fresh air and a break from the surfer infested beaches in San Diego.  After all, that may be why you came.
La Fonda
La Fonda is one the most popular spots in Baja Norte, and the site has many peaks for surfers to choose from.  The ITH Lazy Lobster Hostel and Alistos Campsite sit right on this beach.
K38
Another well known surf site in Baja is K38.  Popularized in the 1950s, K38 is known for its consistency and unforgiving surf.  With different surf spots at K38, the site is perfect for surfers of all levels.
San Miguel
Welcoming the most experienced surfers, San Miguel is a legendary surf spot.  The waves here are nothing but strong and fast, so make sure you come prepared with your wits about you.
Rosarito
Rosarito is known for its infamous sand bars that cause the hollow waves to break consistently next to the pier. Surfers often flock from San Diego to find solace in this Mexican resort town.
Baja Malibu
Baja Malibu is a site less travelled by for the surfers in search of solitude.  It's strong Northwest swell is well known here in SoCal, so you'll be sure to catch some nice waves.
Check out our latest article on Baja Surfing!
Local Eats
This quaint Rosarito coffee shop is the perfect spot to charge up before heading out.  Taking inspiration from an iconic Mexico City neighborhood, you can try their signature coffee for a delicious energy boost.
Puerto Nuevo
This Rosarito community is nicknamed the "Lobster Village" and for good reason.  Nestled in Baja's Gold Coast, you'll find a wide range of restaurants, shopping, and food trucks here.  Sample Puerto Nuevo's renowned lobster dishes.  You'd be remiss to skip out on the delicious lobsters traditionally deep fried in lard.  Pair it with Tequila or a good ol' cervesa for an authentic Puerto Nuevo experience.
Dmytri's is a local favorite well equipped with a fire pit, traditional fare, and Paco's guitar and beautiful serenade.  Be sure to come on Sundays for their infamous buffet and brunch with free drinks.  The stunning views from this restaurant are worth the visit in and of itself, and you'll be sure to enjoy their authentic seafood cuisine.
Where to Stay
During your easy trip to Baja, you'll obviously need a place to stay.  Whether you want to enjoy the stars camping or find comfort between white linen sheets, we've got you covered.
We're happy to announce that ITH has finally opened its newest location, The Lazy Lobster Surf Hostel and Coworking Space.  Located 15 minutes South of Rosarito along natural cliffs and a quaint surf village, find us off the exit for Alistos at KM 58.  The Lazy Lobster Surf Hostel sits right on the beachfront so you can assess the swells without having to leave the comforts of your own bed.  Check out this surf cam to see our waves at La Fonda.
Offering private rooms, van camps, and dorms, The Lazy Lobster is equipped to welcome any traveller.  If you're looking to be more social, take part in our family dinners and enjoy drinks at the bar.
Alistos K58 Camping is another popular site among SoCal surfers where you can enjoy your stay in Baja.  This campground sits 100 ft above the beach with incredible views of the ocean and sunset.